Grey is a part of aging that is common for all just like wrinkles and there is nothing we could do about them. As to trichologist Madeleine Preston, most of the women started seeing a few grey hair when they get to their 30s. And when women getting to their 50s, almost half of the hair turns grey giving a reminder that you are getting older. But as to Celebrity colorist Jack Martin, these inevitable changes to expect in life could turn to beauty. As to him, grey never goes out of style. So here we bring you some amazing hair transformations to make you embrace the new style.
Check out the amazing Grey Hair Makeovers by Celebrity colorist Jack Martin and get inspired!
#01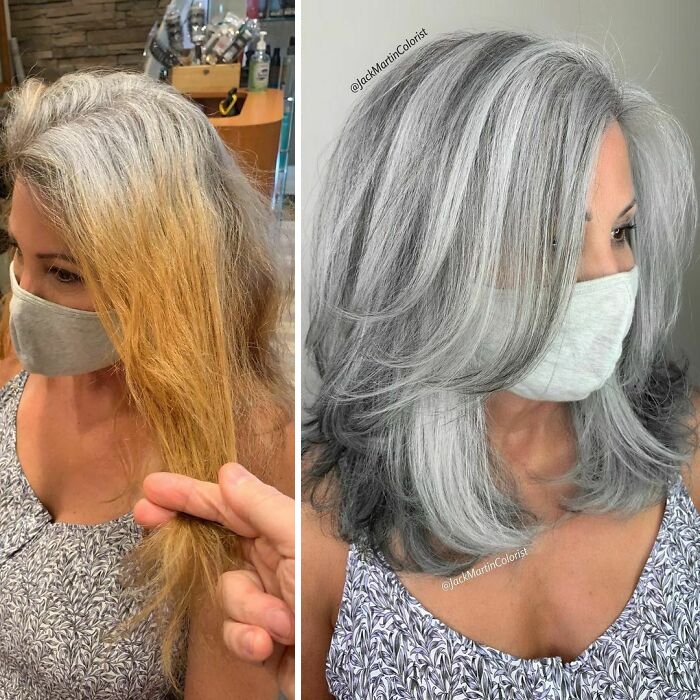 As to what Martin explained, he uses the color just identifying each of his client's natural hair style. As he has stated in his Instagram account, the process here involves a color extractor. He uses that to remove all remaining artificial colors from the hair if there is any. And then by preserving grey roots, he bleaches all hair to make your hair ready to get a new color. Identifying the natural hair grey pattern he then applies the new color.
#02
#03
#04
#05
#06
#07
#08
#09
#10
#11
#12
#13
#14
#15
With beauty in eyes and talent in hands, you can turn things amazingly beautiful. So I hope you have enjoyed the best of Martin's Grey Hair Makeover that makes you look young.