Motherhood is a blessing! And if your mom spends the days with no complaint, believe us she is a real hero! Growing up with kids is a different life with loads of surprises every single day. Life as a mom has a lot of inspiration. So here an amazing mom who is also a great artist in French, Nathalie Jomard brings up the first-person view in a series of illustrations. Believe us, these are honestly funny! Hope you enjoy it!
Does any of them match with your experience as a mother? Share your thoughts in the comments!
#1 First ever Breast Feeding is an unforgettable memory
#2 You are not alone even sitting on the Toilet
#3 What about your favorite Fits- Nothing fits any longer
#4 In Public
#5 When theories do not work anymore, you find it in your way
#6 When your kid wakes up at 5 am in Sweet weekend-mornings
#7 Intimacy between you and the partner just fly away
#8 What a mess your kid could make?
#9 Everything looks like Toys to your kids
#10 You are a Supermom-No Pain!
#11 Protect your kid from the sun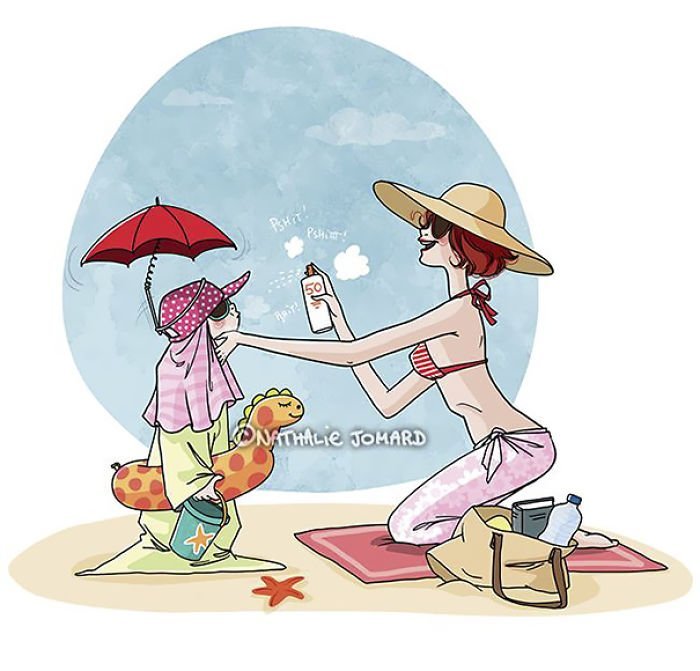 #12 Yes, you can carry 100 things at once!
#13 How Potty training goes
#14 Wearing a Bikini first time after giving birth!
#15 Frustrating Feeding Lesson
#16 Working and being Mother
#17 Forced to do even what you hate to be a great example for your kids
#18 Reaching your feet is impossible!
#19 Trying to work while super exhausted
#20 Looking for solutions for your matters
#21 Finding your most important things in unexpected places
#22 Feeling like a Balloon
#23 When your kid's pet dies, no solution!
#24 Never easy to maintain the authority in the House
#25 First experience in changing baby's Diaper
Life of a mom is full of interesting viewpoints. So hope you enjoyed Being Mother Illustrations to the fullest!